Chickpeas are a nutrient powerhouse! Canned chickpeas are a pantry staple. They're affordable, healthy, and versatile. They are a go-to protein source for vegans and vegetarians for a reason. I always have a can or two on hand for whipping up a plant-based lunch or dinner. I've gathered my favorite easy chickpea recipes for an easy weeknight dinner, meal prep, or even a healthy snack.
My Favorite Easy Chickpea Recipes Using Canned Chickpeas:
Spicy Tomato Chickpeas with Quinoa
This is the #1 recipe on my site for a good reason. It's easy, healthy, and amazing for meal prep.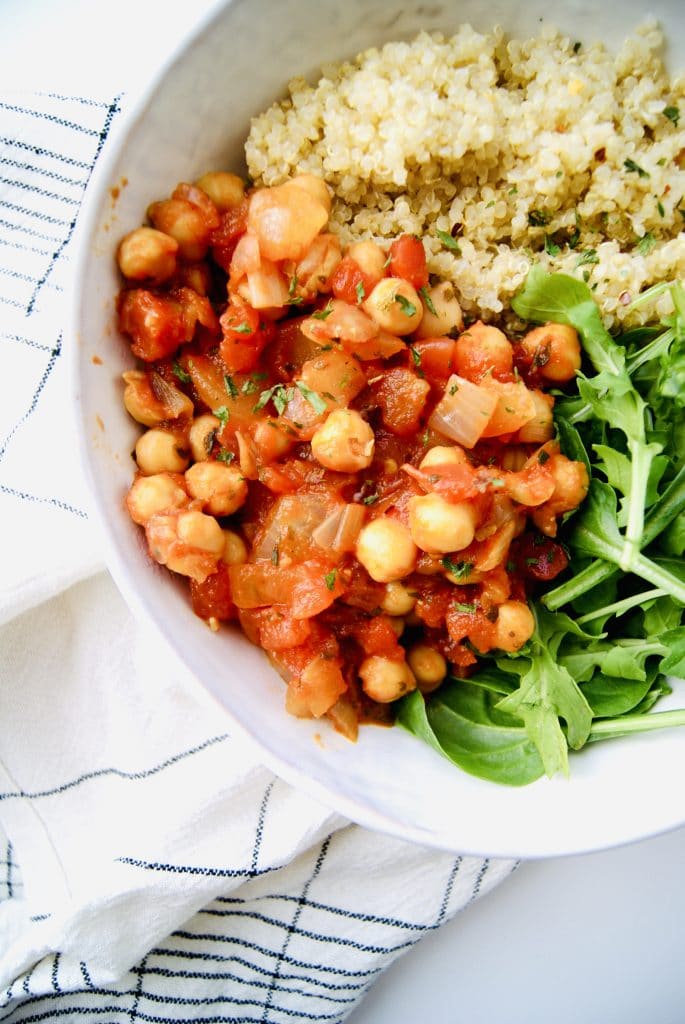 I love the customization of these burrito bowls. Use your favorite ingredients to assemble a healthy, meatless burrito bowl.
Take 10 minutes to make this Easy Hummus Recipe using canned chickpeas and no peeling!
A blend of spices brings Moroccan-inspired flavor to these chickpeas. Pile into bowls with quinoa, some diced cucumbers, and greek yogurt.
Lemon Chickpea & Quinoa Mason Jar Salads
Just a simple lemon salad dressing, chickpeas, chopped cucumber and tomatoes, topped with a little fresh parsley and LOTS of arugula.
Simmer chickpeas in a comforting Indian-inspired sauce and serve over rice.
Balsamic Quinoa Spinach Mason Jar Salads
By layering the ingredients in the mason jars, nothing gets soggy. Making these perfect for meal prep!
No cooking needed and filled with healthy ingredients and an easy Greek dressing to add extra flavor.