Treat yourself to a new cast iron Dutch Oven? Not sure how to use your Dutch Oven, what recipes are best for a Dutch Oven, or how to clean and care for your Dutch Oven? I've compiled my best tips, tricks, and recipes! Meet your new favorite pot!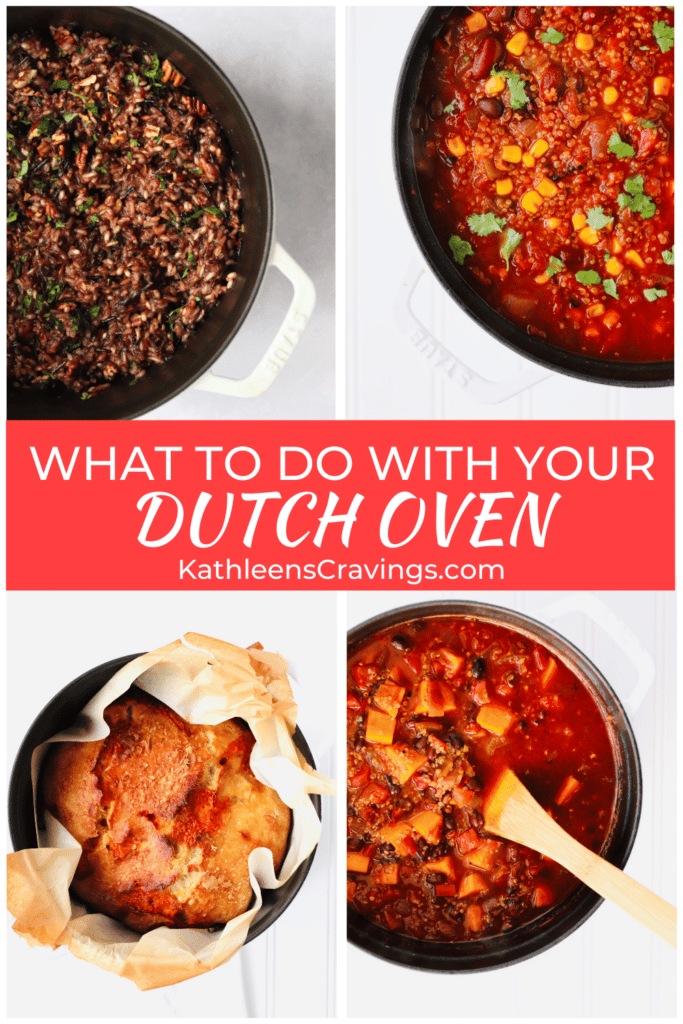 Jump to:
What is a Dutch Oven?
A Dutch Oven is a large, heavy pot that can be used both on the stovetop and in the oven.
The most popular and common type of Dutch Oven is an enameled cast iron pot. They are a great, all-purpose pot that is a total workhorse in the kitchen!
It's a great option for everything from soups and stews, braising meats, cooking pasta, frying, and even baking bread.
What is the best Dutch Oven to buy?
You may have heard of two popular Dutch Oven brands, Le Creuset and Staub. I have used both of these brands and love them, HOWEVER they are more expensive options and should be considered investment pieces.
There are many affordable options that will still perform.
Frequently Asked Questions
What temperature can my Dutch Oven handle?
The great thing about a cast iron Dutch Oven, is that it holds heat very well. Because of this, when using on the stovetop, you don't need to crank the heat up to high. For most cases medium or medium-high is plenty. What about the oven temperature? The pot itself can handle high heat in the oven (up to 500ºF) , but beware of the knob on the lid. If your knob is plastic, it may only be heatproof up to 400º F. If that is the case, you can either twist off the knob when baking at a higher temperature or use a metal knob.
How do you clean a Dutch Oven?
Although, some may say they can be put in the dishwasher. I don't recommend putting enameled cast iron in the dishwasher as it can be tough on the finish.
Typically warm, soapy water is all that's needed to clean! If there are some stubborn bits, you can add water and a little baking soda then pop back on the stove to simmer and use a wooden spoon to scrape off the bits.
If it REALLY needs a good cleaning, Bar Keeper's Friend works very well.

Can you use metal utensils in a Dutch Oven?
I recommend avoid using metal utensils that could scratch the enamel coating on a Dutch Oven. Wooden and rubber/silicone utensils are best!
Recipes to make in your Dutch Oven
Bread making and baking with yeast can be scary and intimidating, but fear no more. This easy recipe uses an amazing dutch-oven method that requires barely any prep work on your part. Just 5 ingredients and less than 10 minutes of prep.
Protein-packed thanks to the quinoa and beans and lots of fiber make this chili extra filling. The main reason I love making this quinoa chili? It uses mainly pantry ingredients!
An easy vegetarian and vegan chili for your busy weeknights. Even though it's meatless, it's flavor-packed and even meat-lovers will enjoy it.
One-Pot Creamy Cajun Chicken Pasta is slightly spicy but the creaminess from the cream cheese is the perfect pairing to the cajun spice. All made in your Dutch Oven, so only one pot to clean.
This recipe is a perfect use of the dutch oven's stovetop to oven benefit. The pilaf starts on the stove but finishes cooking in the oven.
Some of my other favorite Dutch Oven uses:
Soups and Stews
Braising Meat like a Pot Roast and Short Ribs - the Dutch Oven's stove to oven capability makes it great for dishes that need to start with browning on the stove before finishing in the oven. And its a ability to retain even heat makes it great for low and slow cooking.
Frying - A cast iron Dutch Oven is great at conducting heat making it a great option for frying as you can easily watch and control the temperature of the oil. One thing to be sure is that your specific Dutch Oven is rated for the temperature, but most are.
Roasting a Chicken - Once you're done roasting that chicken, make a stock right in that same Dutch Oven.
Like this recipe? Sign up for my e-mail list so you get a weekly e-mail with new recipes from the week as well as occasional 'bonus' content not found on the blog! E-mail link sign up!
Those ads on the page? A portion of all ad revenue is being donated to Warrior Dog Rescue. A MN-based dog rescue that I foster and volunteer with.