Have you ever made a mason jar salad? They make healthy meal prep so easy. These Lemon Chickpea & Quinoa Mason Jar Salads can be made vegan, are easy to make, and delicious. Just a simple lemon salad dressing, chickpeas, chopped cucumber and tomatoes, topped with a little fresh parsley and LOTS of arugula. They keep great in the fridge for days until you're ready to eat!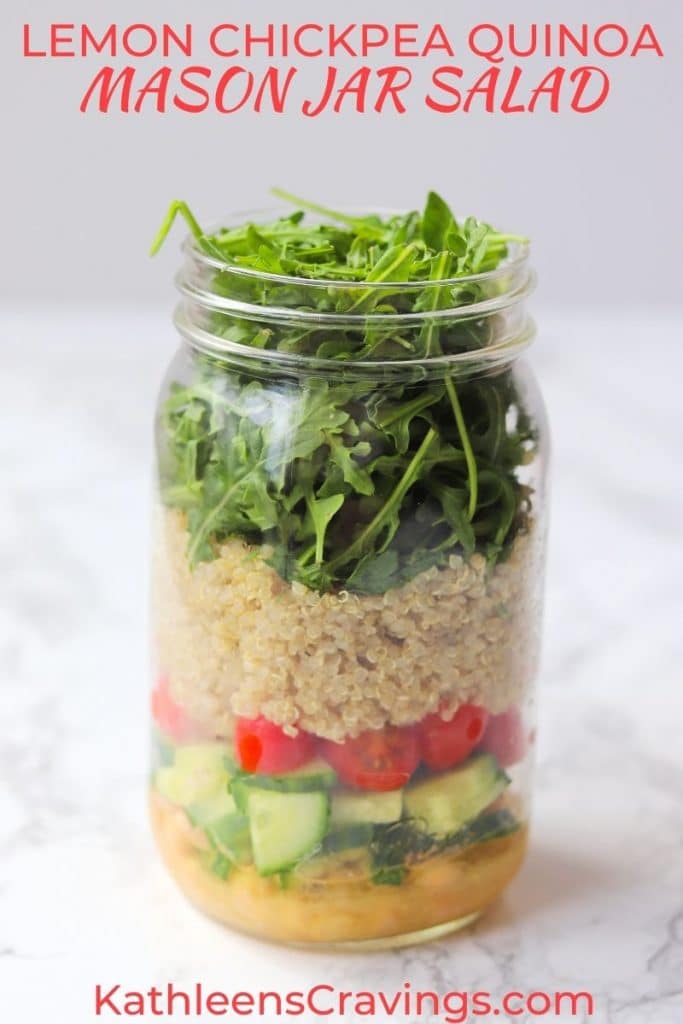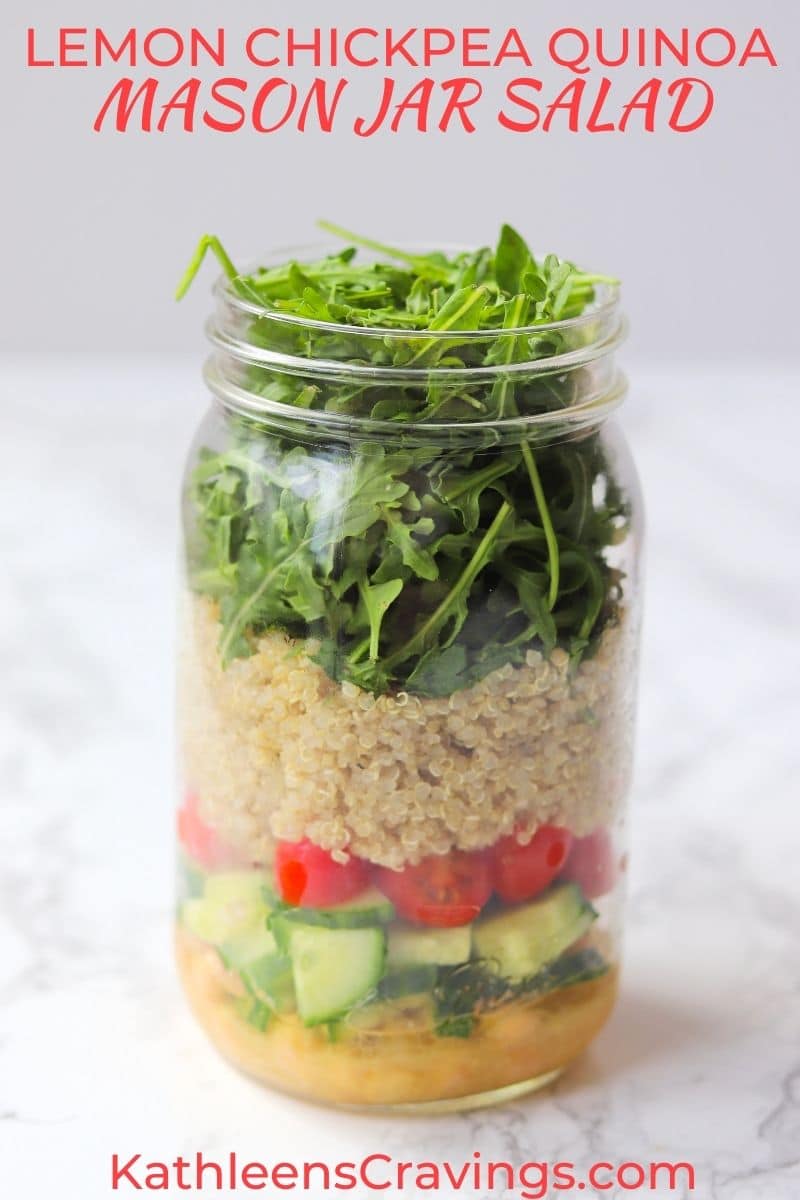 Ingredients You'll Need for these Chickpea and Quinoa Mason Jar Salads:
Canned Chickpeas
Quinoa
Cucumber
Grape Tomatoes
Fresh Parsley
Arugula
Dressing: Lemon Juice, Olive Oil, Honey or Maple Syrup, Dijon Mustard, Garlic Powder, Salt and Pepper.
How to Layer a Mason Jar Salad:
Properly layering the salad ingredients is KEY to having the salads last for days in the fridge without anything getting soggy.
Dressing - This always goes in the bottom so you can separate it from ingredients to keep things nice and crisp.
Proteins - This recipe is vegan, so we're using chickpeas as the protein but you could add something like chicken in this layer as well.
Vegetables - Any veggies that aren't leafy greens.
Grains - Quinoa!
Leafy Greens - These always go last so they are the furthest away from the dressing.
Check out this Quick Video!
[mv_video doNotAutoplayNorOptimizePlacement="false" doNotOptimizePlacement="false" jsonLd="true" key="lfuvk3id8xzo0cstotiy" ratio="16:9" thumbnail="https://mediavine-res.cloudinary.com/v1608478422/xgdnqzqzg73q9tqoc2mi.jpg" title="Lemon Chickpea Quinoa Mason Jar Salad" volume="70"]
Tips and Frequently Asked Questions:
Do I have to use mason jars?
I like to use mason jars for a few reasons..
They easily keep the dressing and other ingredients separated allowing the salads to last several days in the fridge
Glass so no staining or keeping smells like plastic does
And dishwasher safe for easy cleaning
You can use a different container, but you may need to put the dressing in its own individual container and the ingredients may not stay as crisp and fresh.
How long can these salads last for meal prep?
In the mason jars, the salads keep for 4-5 days in the fridge.
By the 5th day, the veggies may lose some of their crispness, but will still taste great and be perfectly fine to eat.
I typically make 4 salads on a Sunday to eat for lunch Monday-Thursday.
What about ingredient substitutions?
You can omit any ingredient you like! Go ahead and add more of something or add a different veggie, protein, or grain.
As long as you follow the layering 'rules' stated above, it will still be great.
What size of mason jar?
I wrote this recipe using the large quart (32oz) sized mason jars. They are big and make large very filling salads.
You could use pint (16oz) sized jars and make 8 salads instead of 4. This is good option if you want the salads to be the side, instead of the main course.
Where can I buy mason jars?
You can find mason jars at many stores! Most grocery stores will carry them, at a store like Target or Walmart, even hardware stores.
Or of course you can find them online!
Is this recipe vegan?
It can be! Just use maple syrup instead of honey for the salad dressing.
Looking for other healthy mason jar salad recipes?
Like this recipe? Sign up for my e-mail list so you get a weekly e-mail with new recipes from the week as well as occasional 'bonus' content not found on the blog! E-mail link sign up!
Those ads on the page? A portion of all ad revenue is being donated to Warrior Dog Rescue. A MN-based dog rescue that I foster and volunteer with.
Print
Recipe
Lemon Chickpea and Quinoa Mason Jar Salads
Lemon Chickpea & Quinoa Mason Jar Salads are vegan and healthy meal prep. Just a simple lemon dressing topped with chickpeas, cucumber, tomatoes, quinoa, and lots of arugula. Perfect for easy weekday lunches!
Author: Kathleen
Prep Time:

10 minutes

Cook Time:

20 minutes

Total Time:

20 minutes

Yield:

4 servings

Category:

Main Dish, Meatless Monday

Method:

Stovetop

Cuisine:

American

Diet:

Vegan
Mason Jar Salads
1 cup

dry quinoa (Cooked according to package directions and slightly cooled)

1

13.5 oz can chickpeas (rinsed and drained)

2

medium cucumbers (chopped)

1 pint

cherry tomatoes (halved)

½ cup

fresh parlsey (chopped)

5 ounces

fresh arugula

4 quart

sized mason jars 
Lemon Dressing
2

lemons, juiced

¼ cup

olive oil

1 tablespoon

honey (or maple syrup to make vegan)

1 teaspoon

garlic powder

2 teaspoons

dijon musturd
salt & pepper, to taste
Instructions
Cook your quinoa according to package directions.
Make the Dressing. While the quinoa is cooking, in a medium bowl (or liquid measuring cup for easy pouring into jars) mix together the lemon dressing ingredients using a whisk or fork. When quinoa is done cooking, allow to cool slightly before assembly the jars.
Assemble the jars. First, divide the dressing evenly among the jars. Then evenly divide the chickpeas. Followed by the cucumber. Followed by the tomatoes. Next, add the quinoa and finally add the fresh parsley and arugula.
Seal the jars and store in the fridge until ready to eat. When ready to eat, dump the contents into a bowl or plate and toss together to allow the dressing to be mixed up with everything. Enjoy 🙂
Notes
Prepared Mason Jar Salads can be stored in the fridge for 4-5 days.
Nutrition
Serving Size:

1 mason jar salad

Calories:

428

Sugar:

9.8 g

Sodium:

641.2 mg

Fat:

19 g

Carbohydrates:

55.8 g

Fiber:

9.3 g

Protein:

13.1 g

Cholesterol:

0 mg
Keywords: Vegan Mason Jar Salad Recipe, Healthy Meal Prep Recipes, Healthy Lunch Meal Prep, Mason Jar Salad Recipes, Meal Prep Salad Recipe