Did you join the Air Fryer club? Feeling intimidated and overwhelmed? I've got you covered! Tips, tricks, how to use your air fryer, and recipes!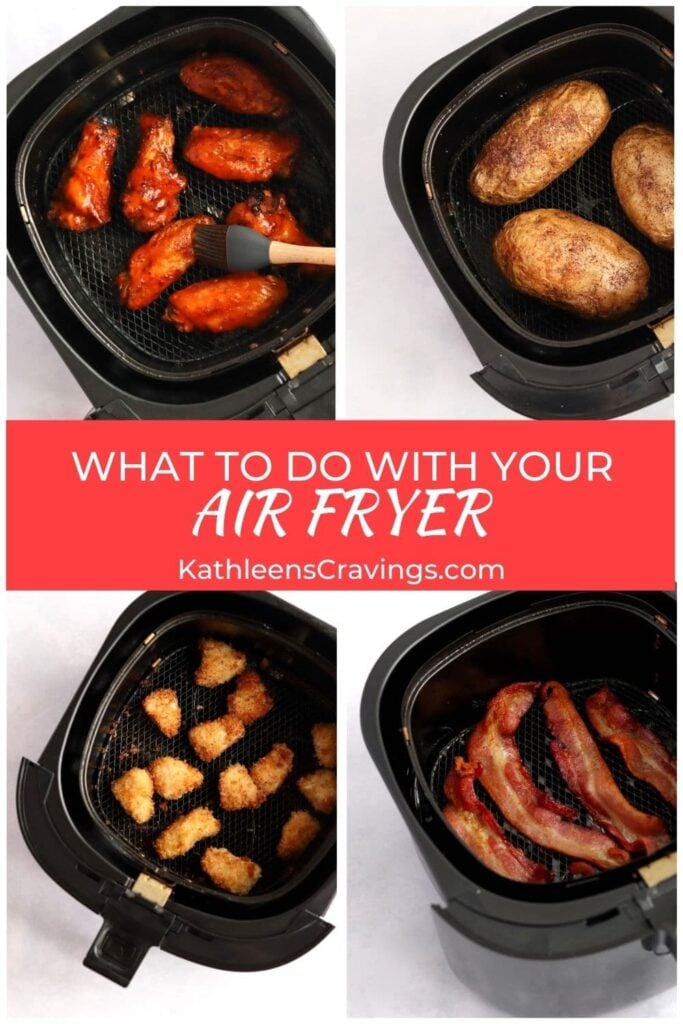 What is an Air Fryer?
An air fryer is essentially a compact countertop convection oven. A fan circulates the hot air at a quick speed which creates a crispy layer on foods without needing to fry in oil.
Is Air Fryer food healthier?
It lets you cook foods using very little oil - significantly less than what is needed for pan frying or deep frying. But you can still get foods nice and crispy and golden.
Do you need to preheat an Air Fryer?
One of my favorite things about using an air fryer vs the oven is that you don't need to preheat! You'll find that some recipes recommend preheating for a few minutes, but I actually don't find a big difference when I preheat vs don't preheat. So I usually skip that step and just start cooking!
How much food can an Air Fryer make?
It depends on the size, but most models can make enough food for 2 to 3 servings. It's important to not crowd the air fryer - you want the hot air to be able to circulate. This is what makes food crispy. So if you're making a larger recipe, you may need to cook in batches.
Does food stick?
Some foods can stick. I like to spray the basket with cooking spray first, or line it with aluminum foil. Note that the food needs to be heavy enough to weigh the foil down so it doesn't get sucked into the fan.
How do you clean an Air Fryer?
Depending on your model, some pieces may be dishwasher safe. I prefer to wash by hand.
The Air Fryer Basket/Drawer: Soak the basket in hot soapy water to break up the grease. For some recipes, you can line the air fryer with foil to reduce cleanup. Lining with foil does limit the air flow which can result in less crispy results. But the foil is necessary for some saucy recipes.
The Main Body: This needs to be cleaned occasionally to remove the built up grease splatters and food. Built up grease and food can lead to smoking. Make sure it's completely cool first. I like to start by shaking out any crumbs then wipe it down using a damp rag and a little mild dish soap, if needed. You can turn the base upside down to have easier access to the heating coil on top.
Recipes to make in your Air Fryer
A healthier option than the traditional fried nuggets. Made by breading chicken breast pieces with Panko and Parmesan cheese.
Similar to oven bacon, but perfect for making a smaller batch without having to preheat the oven. Worried about smoke? I include a tip so you can cook bacon without any smoking issues. It takes 10 minutes or less!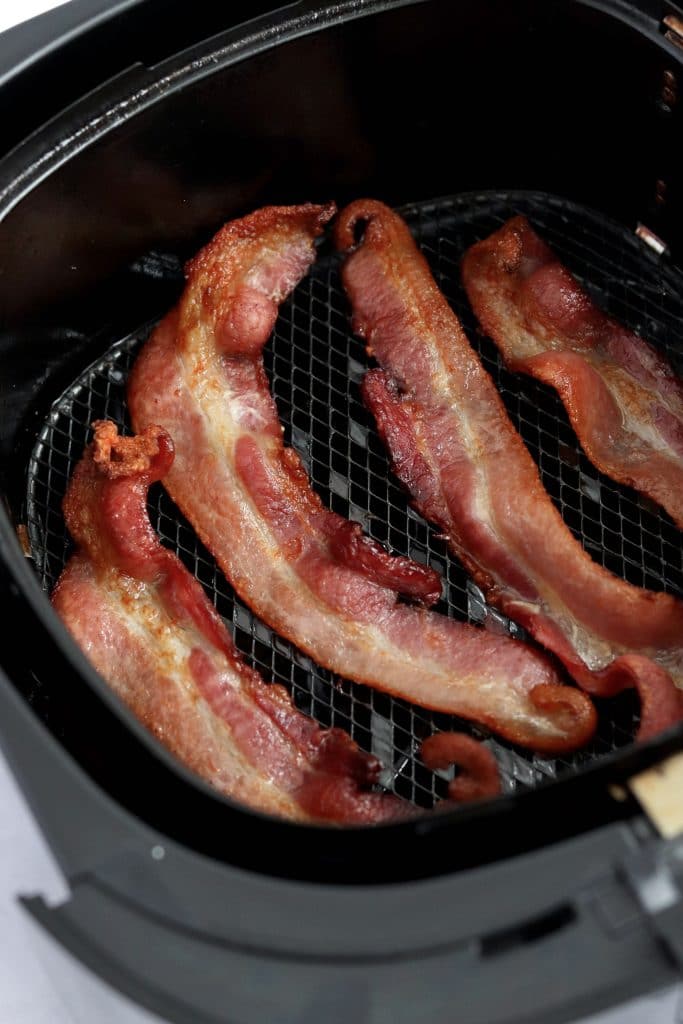 Perfect game day snack! These wings are so simple to make with an easy easy dry rub of lemon pepper, garlic powder, and salt.
These wings are so simple to make with an easy easy dry rub of pantry staple spices. Then after air frying, just brush or toss with your favorite buffalo sauce (store-bought or homemade).
They're easy enough to make on a weeknight, but decadent enough to make for a holiday like Easter or Mother's Day. Sticky, sweet, and with a slight spice kick. The glazes uses just a few pantry ingredients.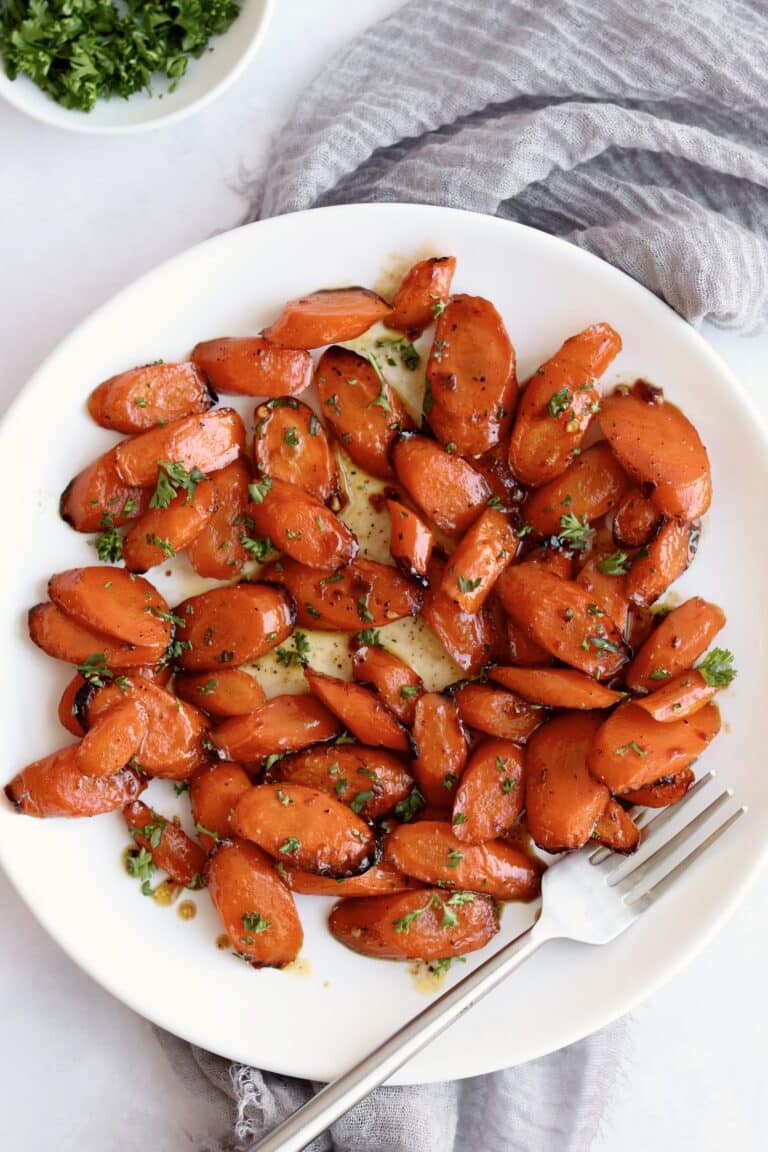 The skin on the baked potato becomes so thin and crispy, yet the inside is super tender. These are seriously the BEST baked potatoes!
Air Fryer Chicken Parmesan is a healthier alternative to the comforting favorite! A super easy dinner for two. Perfect for date night or make a double batch to serve the whole family!
Some of my other favorite Air Fryer uses:
Most small freezer foods! The rule of thumb I use is take the oven directions and lower the temp by about 25 degrees and cut the cook time in half to start. Pizza rolls, mini pizzas, and frozen egg rolls are some of my faves!
Reheating leftovers! Let's be real, many foods get a little sad and soggy when reheated in the microwave. I love to reheat leftovers in the air fryer to crisp them back up again. I reheat most leftovers at 325-350 degrees F in the air fryer for 5-10 minutes until warmed.
Like this recipe? Sign up for my e-mail list so you get a weekly e-mail with new recipes from the week as well as occasional 'bonus' content not found on the blog! E-mail link sign up!
Those ads on the page? A portion of all ad revenue is being donated to Warrior Dog Rescue. A MN-based dog rescue that I foster and volunteer with.