Did you join the Instant Pot club? Feeling intimidated and overwhelmed? I've got you covered! Tips, tricks, how to use your pressure cooker, and recipes!
What is an Instant Pot?
An Instant Pot is a brand of electric pressure cooker that also has slow cooking capabilities among many other things! But, when a recipe says it is an "Instant Pot X" that means it is being used as a pressure cooker.
A pressure cooker uses steam pressure to cook food. Essentially, a sealed pot with steam inside causes pressure to build up which helps cook food faster.
What is the best Instant Pot to buy?
The most important decision you need to make is what size to get. The most common size is the 6qt Instant Pot. This size should work for most recipes. If you have a large family, you may want to consider getting the larger 8qt size.
In terms of models, any regular Instant Pot pressure cooker will have the same functionality.
The difference between the models is some of the pre-set functions and how the display looks. Even if your model is missing a certain pre-set function, you can just manually select the time and pressure.
Instant Pot Tips and Tricks!
First time using, start with the water test!
The 'water test' is a great way to learn how it works and what to expect during the pressure cooking process. Here is a great step by step.
The 'test' does not make your Instant Pot work better, but it will allow you to get comfortable before actual food and ingredients are involved.
I tried a recipe but got the 'burn' error, what does that mean?
If the display flashes 'burn' that means there was not enough moisture in the pot so it shut off to prevent the food from burning to the bottom of the pot. In order to pressure cook in the Instant Pot, you need liquid.
You'll note that some recipes will be specific about the layering of ingredients - this is to ensure that the liquid is on the bottom.
For example, if you add dry pasta and marinara sauce but no liquid, you will get the 'burn' error as the marinara sauce does not provide enough moisture for the pot to function.
I'm scared, is it going to explode?
The Instant Pot has many safety features that makes the pressure cooking function completely safe to use. The stories you hear about pressure cookers exploding is from the pressure not being released properly.
The Instant Pot lid will lock when it is pressurized and you must release the pressure before being able to remove the lid.
What does Natural and Quick Release mean?
After the pot finishes cooking, you must release the pressure before you can remove the lid and open.
Natural Release
A 'Natural Release' is when you let the pot sit and the pressure will slowly release on its own. The Instant Pot will automatically start doing this after the cook time finishes.
This is the best approach for large cuts of meat, recipes that are foamy, have a large amount of liquid, or a high starch content.
Keep in mind that there is still heat in the pot during the release, so your food will continue to cook.
After the Natural Release cycle, the pin on top of the lid will drop and you will be able to open the lid.
Quick Release
A 'Quick Release' allows you to quickly release the pressure. Best when you want to stop the cooking process and prevent over cooking - such as when cooking vegetables or other short cooking time foods.
To quick release the pressure, you flip the sealing valve on top of the lid and steam will escape (forcefully, so watch your hand. You can use the handle of a wooden spoon to keep your hand and arm out of the way).
Be careful when using a quick release as some liquid can escape with the steam. If this happens, you an re-close the valve and allow the pot to natural release for a few minutes before quick releasing the remaining pressure.
Recipes to make in your Instant Pot
[mv_video doNotAutoplayNorOptimizePlacement="false" doNotOptimizePlacement="false" jsonLd="true" key="n1cixam5wiyykahlzyr3" ratio="16:9" thumbnail="https://mediavine-res.cloudinary.com/v1605922275/featdmqprqd7ig14ytkd.jpg" title="Instant Pot Penne Bolognese" volume="70"]
This easy pasta with meat sauce is hearty, delicious, and budget friendly. It's what easy dinner dreams are made of! All made in one-pot at one time. Just a 5 minute cook time. AND using affordable ingredients that you probably already have in your pantry!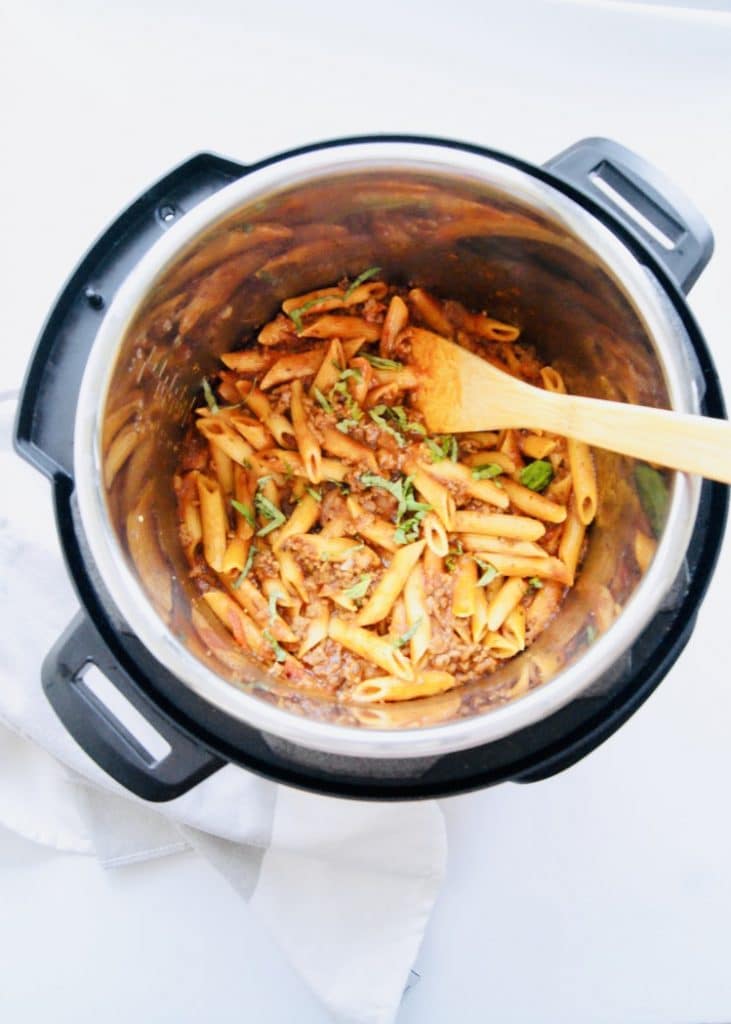 Sweet Potato Pork Stew is healthy, comforting, and filling. It's even Paleo-friendly! Ground Pork and Sweet Potatoes make the stew super filling. Jalapeños add spice that is slightly offset by the sweetness from the apples.
Healthy, filling, creamy, slightly spicy, and perfect for meal prep. Serve with rice, quinoa, or even cauliflower rice for a complete meal.
Rich, creamy, and so easy! Let your pressure cooker do all the work. Perfect for a family dinner or a side for Thanksgiving when you're short on oven space. Evaporated milk makes this pasta extra rich and creamy.
You don't get more comforting and nostalgic than a classic Chicken Noodle Soup.
Some of my other favorite Instant Pot uses:
Meal Prep Staples - Hard Boiled Eggs, Rice, Chicken Breasts or Shredded Chicken
Large Cuts of Meat - Pot Roast, Pork Roast for Pulled Pork, etc.
Any Recipe that Benefits from Sautéing/Browning first. With a slow cooker, you have to brown the meat on the stove before adding it to the crock pot. But with you instant pot you can just use the sauté setting - one less pan to clean!
Like this recipe? Sign up for my e-mail list so you get a weekly e-mail with new recipes from the week as well as occasional 'bonus' content not found on the blog! E-mail link sign up!
Those ads on the page? A portion of all ad revenue is being donated to Warrior Dog Rescue. A MN-based dog rescue that I foster and volunteer with.