This easy recipe for Stovetop Candied Pecans is perfect for the holiday season! Sweet, salty, and crunchy. They're made with just a few pantry staples and only minutes of active prep time.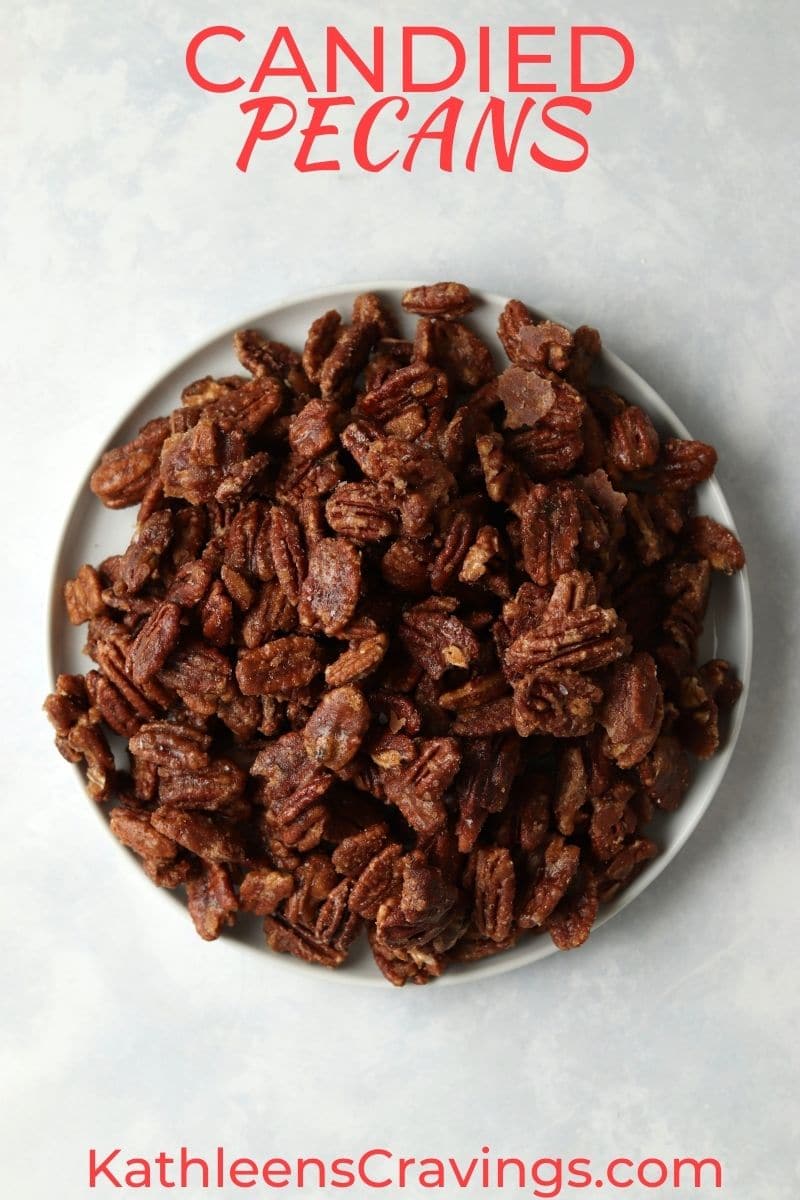 These quick candied pecans are egg-free and so simple to make. Just heat up the sugar, fold in the pecans, and let cool.
Jump to:
Why I love them
Easy Ingredients - You likely have everything you need on hand!
Make Ahead - Candied pecans keep very well so you can make a batch in advance to snack on all holiday season.
Super Quick - It takes only minutes to mix these up on the stovetop and they even cool quickly.
Versatile - Candied pecans are great on their own to snack on, as a salty sweet addition to a cheese board, or tossed in a salad.
Step by Step Instructions
It is so easy to make these brown sugar candied pecans on the stovetop.
Toast Pecans - You can buy pre-roasted or toasted pecans to cut down on prep. But it is very easy to roast them yourself and only takes 10 minutes
Heat Sugar - Heat the sugar mixture until bubbly. This only takes a few minutes
Fold in Pecans - Fold in the pecans until coated
Cool Pecans - Quickly spread on a lined sheet pan and let cool for about 15 minutes until dried and crunchy.
Ingredients You'll Need:
Pecan Halves - You can buy them pre-roasted or the recipe includes how to easily roast them yourself
Brown Sugar - I used light brown sugar, but you can use dark brown sugar for a richer flavor
Vanilla Extract
Kosher Salt
Ground Cinnamon
Flaky Salt - Optional, for sprinkling on top
Great Make Ahead Holiday Recipe
Stovetop Candied Pecans keep very well! They can be stored at room temperature for week or in the fridge for a couple of months. Make a batch or two at the beginning of the holiday season to have on hand.
Frequently Asked Questions
Why are my candied pecans sticky?
Candied pecans will be sticky when they're hot but will harden once they cool. If they are still sticky after cooling then it means you didn't heat the sugar mixture fully.
How do I toast pecans on the stove?
Pecans can be toasted/roasted in the oven or on the stove. To do so on the stove, add the pecans to a dry skillet and toast over medium heat for about 5 minutes. Make sure to stir frequently. They are toasted when they are a deep golden brown and extra fragrant. Be careful not to burn them.
Variations:
Other Nuts - Try making this recipe with other nuts like walnuts, cashews, or macadamia nuts.
Spices - This recipe uses cinnamon, but you could also add other warm spices like nutmeg or ginger. For a spicier variation, try adding some cayenne pepper or red pepper flakes.
Serving Suggestions
Salads - Nuts are a common choice in salad and using candied nuts gives an extra sweet bite. Try adding them to this Pomegranate Brussels Sprout Salad or this Apple Pecan Harvest Salad.
Cheese Board - Sweet glazed pecans are a great addition to your holiday cheese and charcuterie board! Or even add to a fruit charcuterie board or cookie charcuterie board.
Gift - Due to their shelf life, these candied pecans are a great option to give as a gift! Add some of the pecans to a mason jar and tie with a festive ribbon for an easy hostess gift.
Breakfast - They're a great addition on top of pancakes or waffles drizzled in maple syrup.
Yogurt Parfaits - Sprinkle on top of some yogurt and fresh fruit.
Ice-Cream Sundaes - Add some crunch to your favorite ice-cream.
Other Holiday Recipes
Puff Pastry Brie Bites - An easy appetizer that use only 4 ingredients. They're perfect for your next holiday party and there are lots of variation ideas.
Prosciutto Wrapped Asparagus - An easy appetizer or side dish that uses just a few ingredients. This simple yet impressive recipe can even be made in advance to make your life easier.
Sea Salt Chocolate Almond Clusters - Only 4 ingredients and the perfect combo of salty and sweet. They keep in the refrigerator for up to 4 weeks so they are perfect to have on hand for last minute holiday visitors.
Recipe Notes and Tips
Work Quickly - Once you're done cooking the candied pecans on the stove, you'll want to quickly transfer them to the sheet pan. They cool very quickly.
Line Sheet Pan - Don't forget to line your pan with parchment paper or a silicone liner. This prevents the candied pecans from sticking to the pan when they cool.
Equipment Needed
Medium Pot - Use a medium pot to melt together sugar mixture. It needs to be big enough for the sugar mixture to bubble and to add in the pecans.
Sheet Pan - You'll use a sheet pan to roast the pecans and to lay out the candied pecans to cool and harden.
Parchment Paper or Silicone Liner - It's important to line the sheet pan so the glazed pecans don't stick to the pan.
Leftovers and Storage
Leftovers and Storage: Candied Pecans can be stored in an airtight container at room temperature for up to 1 week. Or for longer storage, store them in the fridge for up to a month.
Freezing: They can be frozen as well! I like to flash freeze on a baking sheet before transferring to a freezer bag or container for up to 1 month.
Related Recipes
Like this recipe? Sign up for my e-mail list so you get a weekly e-mail with new recipes from the week as well as occasional 'bonus' content not found on the blog! E-mail link sign up!
Those ads on the page? A portion of all ad revenue is being donated to Warrior Dog Rescue. A MN-based dog rescue that I foster and volunteer with.
Print
Recipe
Stovetop Candied Pecans
This easy recipe for Stovetop Candied Pecans is perfect for the holiday season! Sweet, salty, and crunchy. They're made with just a few pantry staples and only minutes of active prep time. These quick candied pecans are egg-free and so simple to make. Just heat up the sugar, fold in the pecans, and let cool.
Author: Kathleen
Prep Time:

5 minutes

Cook Time:

15 minutes

Total Time:

35 minutes

Yield:

1 pound

Category:

Snack

Method:

Stove

Cuisine:

American

Diet:

Vegan
1

pound halved pecans

1 cup

packed light brown sugar

2 tablespoon

 water

1 ½ teaspoons

 vanilla extract 

1 teaspoon

 ground cinnamon

¼ teaspoon

 kosher salt
Flaky Sea Salt, optional
Instructions
Roast Pecans - If you bought roasted pecans, you can skip this step. Preheat the oven to 325 degrees F and spread out the pecans on a sheet pan in an even layer. Roast for about 10 minutes, or until turning light golden brown and fragrant. Give the nuts a toss about halfway through to ensure even roasting.
Prep - Remove the pecans from the sheet pan and set aside. Line the sheet pan with a piece of parchment paper or a silicone liner.
Heat Sugar - In a medium pot, mix together the brown sugar, water, vanilla, cinnamon, and kosher salt. Cook over medium heat until it starts to bubble. 
Add Pecans - Stir the roasted pecans into the sugar mixture and cook for another 30 seconds-1 minute.
Transfer to Pan - Working quickly, pour the pecans onto the lined sheet pan, scraping out any of the excess sugar. Spread evenly. Try to have space in between the nuts as they will stick together if they are touching.
Cool - Allow the pecans to cool at room temperature. It only takes about 15-20 minutes. Then serve or store.
Nutrition
Serving Size:

1.5 ounces (~¼ cup)

Calories:

356

Sugar:

19.4 g

Sodium:

33.5 mg

Fat:

29.7 g

Carbohydrates:

23.8 g

Fiber:

4.1 g

Protein:

3.8 g

Cholesterol:

0 mg
Keywords: Candied Pecans, Candied Pecans Stovetop, Glazed Pecans, Stovetop Glazed Pecans